Welcome
The combustion of pulverised coal in the furnace of a coal fired power station boiler results in the production of a number of solid by-products, more accurately classified as CCP's. This terminology reflects a more positive view and is in keeping with the concept of industrial ecology, being an approach that seeks to use one industries by-product as another industries raw material inputs.
The beneficial use of CCP's from coal consumption use for energy is an important strategic plan for the sustainable use of coal, within an increasingly resource (finite) and emission (carbon) constrained society. While the principal product from coal combustion is energy, significant quantities of by-products in the form of CCP's are also produced. In life cycle terms the opportunities to exploit the low energy embodied in CCP's such as -- fly ash, furnace bottom ash, boiler slags and cenospheres are extensive.
CCP's, being highly processed materials from the actions of milling and thermal processing, can if efficiently used, displace other traditional energy-intensive raw materials (product replacement). Resulting in conservation of finite mineral resources, the reduction or displacement of greenhouse emissions, through the recovery and use of these mineral resources.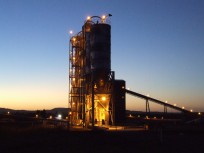 Reduction in greenhouse gas terms is tangible and therefore within an increasingly carbon constrained society is a worthy motivation for developing innovative methods for recovery and use. Based on current national government policy, it would seem inevitable that a carbon pricing mechanism will re-emerge, and that it will include a suite of offset options that recognise greenhouse gas reductions achieved. This has and will bring further incentive to the productive recovery and future use of CCP's.
Australian producers and marketers of power station ash formed the ADAA with the objective of investigating and developing market opportunities for the use of these materials in various industry applications. The Association has and continues to deliver on this objective by striving to increase awareness by the generators, processors, regulators and end users awareness of the sustainable ecological benefits arising from the increased utilisation of these industry by-products for relevant industries, the community, and ultimately the environment.
Strategically, this has involved the execution of three primary objectives:
The initiation, analysis and dissemination of fundamental (pre-commercial) research and development initiatives in the recovery, processing and use of CCP's.
Advocating for the potential beneficial end uses and applications of CCP's to governments, regulators, and relevant industry organisations, both domestically and internationally.
Providing a regular forum for the exchange, consultation and analysis of relevant industry developments and information.
---
News Updates